What is Mobile ID?
Mobile ID is an innovative app allowing Mississippi residents to manage their identity like never before. Mobile ID is a highly secure, digitized version of your driver license or state-issued ID, carried in an app on your smartphone.
Mississippi Mobile ID keeps user data secure and ensures privacy of personal information by only storing information with the state system of record and on the user's device.
In today's health-conscious environment, Mobile ID offers the convenience of a contactless method for verifying identity. By creating a direct line of communication with consumers, Mobile ID allows the DPS to push updates to information such as an address change or status update, so verifiers can be confident the identity they are accepting is authentic and up-to-date.
CONVENIENT
Prove your identity and pay for your purchase from the same device at participating locations.
ID check with barcode scanning is quick and easy – and contactless.
SECURE
Safer than carrying your ID in your wallet, the Mobile ID app is secure, using FaceID or TouchID.
Mobile ID puts you in control by letting you decide what information you share.
PRIVATE
Mobile ID keeps user data secure and ensures privacy of personal information by only storing it within the state system of record and on the user's device.
Privacy views allow you verify your age without having to expose sensitive data like your birth date, height, or address.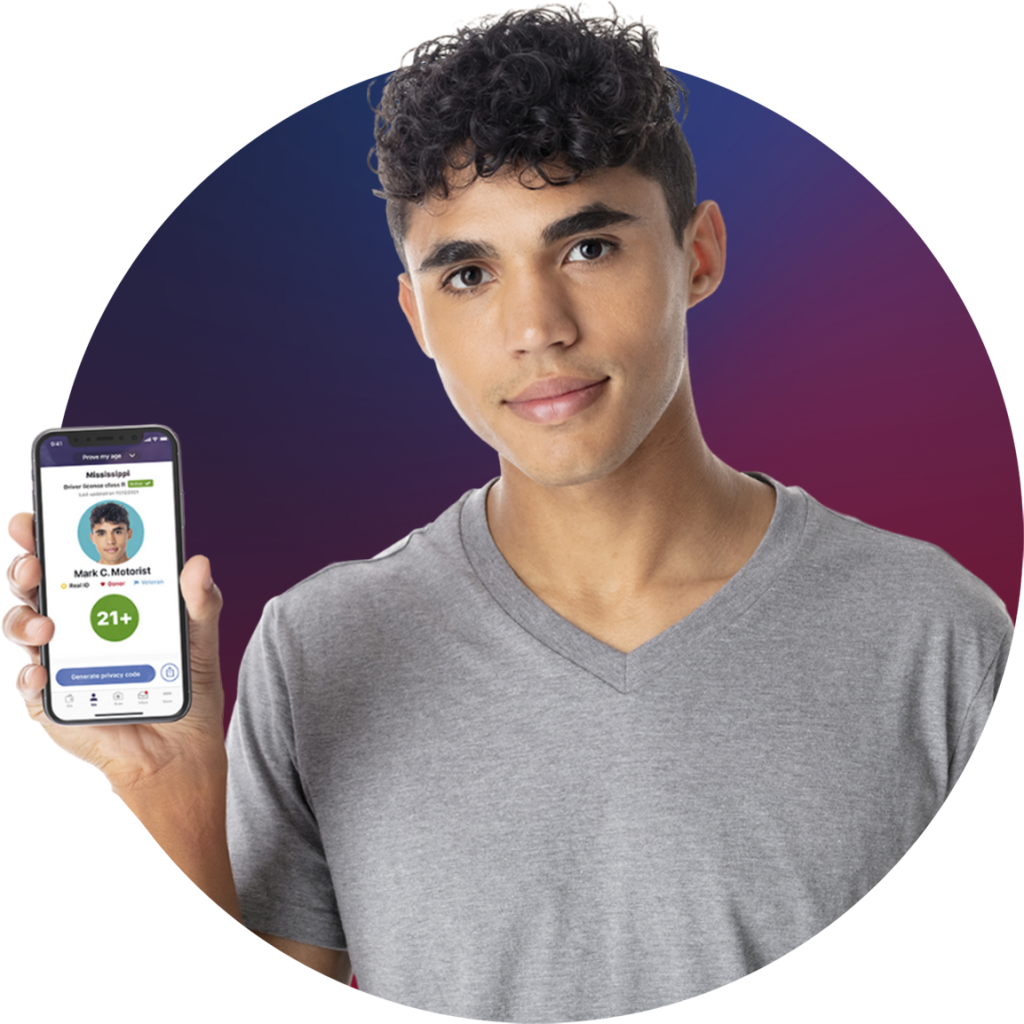 How Do I Use My Mobile ID?
Mobile ID can be used in any context in which you would use your physical ID to verify your age or identity. A merchant can choose to physically verify the Mobile ID by identifying your birthdate from the rendered license under the "ID" tab. The moving portrait and the "Certify" emblem are added security features that allow the verifier to know it is not a screenshot.
Under the "ID" tab, a verifier is able to scan the back of the driver license, just as you would a physical card, because the barcodes are the same.
A merchant can also verify Mobile ID by using the free "Mobile ID Verify App", available in the App Store or Google Play. By scanning the QR code produced by the mID (tap the "Share" icon next to "Generate Privacy Code" on the "Me" tab), a Bluetooth connection is made and request will be sent to your Mobile ID to either accept or deny sharing your information with the verifying party.
Privacy Views
An ID holder can access privacy views through the "Me" tab in their app, allowing users to verify their age or identity while protecting personal information not needed for the transaction, such as address or date of birth.
Join the Mississippi Mobile ID Adopters Program!
Become a Mississippi Mobile ID Adopter and join the growing list of businesses and state agencies that accept Mobile ID. Vendors can accept the Mobile ID with confidence, as information on the digital ID can be verified against what is on file with the Department of Public Safety and will always be accurate and up-to-date. Let customers know you accept Mobile IDs by clicking here, to join the Mississippi Mobile ID Adopter Program and request a "Welcome Kit".
Frequently Asked Questions
Have a question?  Please view the Mobile ID FAQ page for answers to your most common questions.
If you do not find what you are looking for, please visit IDEMIA's Mobile ID support site for more support options such as email, live chat, and helpdesk service hours.